Roof Leak Repair in Southeastern Virginia & Northern North Carolina
Common Causes of Roof Leaks
Missing, cracking or damaged shingles
Ice damming
Clogged gutters
Damaged flashing/joints
Soffit & fascia damage
We specialize in roofing services to prevent and repair roof leaks
Roof leak repair begins with roof leak detection. If the rafters and underside of your roof deck are exposed, you will have an easier time of it. That being said, it's important to note that water leaks have a way of being incredibly deceptive. The spot where you see water and stains may be some distance from the actual roof damage.
A professional roofer knows the tricks that water can play, so don't risk climbing onto your roof and searching for the source yourself. Premier Roofing & Siding Contractors provides fast, reliable leak detection and roof leak repair services for Virginia & North Carolina residents.
When locating a leak, remember that water can't run uphill, so leaks on a pitched roof cannot be below where you see evidence of a leak. Water can enter through exposed nail holes or an area with missing shingles, traveling over old layers of roof and roofing felt until it reaches a gap or tear that allows it to penetrate to the roof deck. From there, it may run over the plywood until it crosses a joint – whereupon it may resume its journey along a rafter or the underside of the decking.
Schedule A FREE Estimate
Call Premier Roofing & Siding Contractors for an inspection and written estimate for roof repair and roof replacement in Chesapeake, Virginia Beach, Newport News and throughout the Southeastern Virginia & Northern North Carolina area of Virginia & North Carolina.
Timely leak repair can help prevent mold and wood rot
Finding the origin of a leak when the underside of your roof is hidden, such as with cathedral or vaulted ceilings, is a real challenge. Water can travel many feet from where it enters before showing itself. With drywall or paneling on the ceiling, it may travel even further. A small leak may not even be noticeable except during prolonged rain fall, but that doesn't mean it's harmless. Moisture inside the roof assembly can degrade insulation and promote the growth of mold and wood-rotting fungus.
With substantial leaks, you will see discoloration on your ceiling. On a horizontal ceiling, water may pool and saturate the drywall. If you see this happen, puncture the saturated area with a pencil and allow the water to drain into a large bucket until you can repair the roof. If the leak cannot be found by inspecting the roofing, a sizable section of drywall will have to be removed to pinpoint its location. Once the leak has been located, technicians will measure from reference points, such as a chimney and the ridge, so they can transfer the leak location to the roof.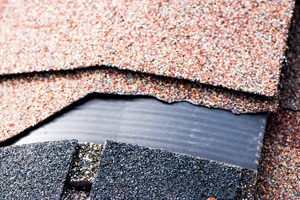 Damaged shingles. Fixing roof leaks includes sealing all entry points like shingles that are torn, cracked, or damaged.
We're Virginia & North Carolina's roof repair and roof replacement experts
Over time, even the best roofing system can develop problems. The good news is that we can replace shingles and repair a leaky roof caused by wind damage, hail damage or general wear and tear. If your roof needs to be replaced, we provide quality roof installations and roofing services.
Repairing a leak may be as simple as troweling roofing cement over old, cracked flashing, or as involved as replacing a large area of wind torn shingles. Premier Roofing & Siding Contractors' roofing experts can handle any type of roof repair, including those that involve replacing fractured or rotted rafters and rotted decking. We take care to match existing shingle color and texture as closely as possible.
Give us a call at 1-844-385-9334 for a free estimate for roof leak repair, roof replacement or installation, or any other our other roofing services. We are Southeastern Virginia & Northern North Carolina's leading roofing company.
Looking for a price? Get a no cost, no obligation free estimate.