Different Types of Roofing Materials
Increase home value and protect what's inside with a long-lasting roof
Our Roofing Services in Virginia & North Carolina
Roof repair & maintenance
Roof replacement
New roof installation
Gutter & downspout installation
Comprehensive roof inspections & estimates
Whether you are installing a new roof on a new house or replacing an older roof that is no longer doing its job, there are many choices in terms of the types of roofing materials available. Some of the different options include asphalt shingles, tile roofing, metal roofing and more.
Factors that determine what type of roofing is best include the slope and complexity of the roof, as well as the style of the house, local climate and the cost of different roofing options.
At Premier Roofing & Siding Contractors of Southeastern Virginia & Northern North Carolina, you can trust that you'll have the best roofing in no time at a cost you can afford!
Contact us today for your free estimate. We provide quality roofing services, including roof repair, roof replacement and installation in Chesapeake, Virginia Beach, Newport News, and the surrounding areas of Virginia & North Carolina!
Products
TruDefinition® Duration Shingles provide durability infused with stunning designs and colors to give your home instant curb appeal!
TruDefinition® Duration® Shingles with patented SureNail® Technology offer a high-end, premium look, which gives your home the appeal you desire, at an affordable price. Available in eye-catching colors, TruDefinition® Duration® Shingles provide:
A Limited Lifetime Warranty*
130-MPH Wind Resistance Limited Warranty*
Algae Resistance Limited Warranty*
Fresh, dynamic contrast
Deep shadow lines and greater dimension compliment your entire home
(*for as long as you own your home)
Simple, Solid and Smart: Supreme Shingles by Owens Corning
These traditional three-tab shingles add classic value to your home while enduing the challenges nature provides for roofs. With a variety of deep, natural colors, your roof will not only look stunning but last with the seasons.
Features include:
A Limited 25 Year Warranty*
60-MPH Wind Resistance Limited Warranty*
Algae Resistance Limited Warranty*
Traditional yet high quality shingle style
ENERGY STAR rated to help reduce heating/cooling costs
(*for as long as you own your home)
---
Asphalt & asphalt fiberglass shingles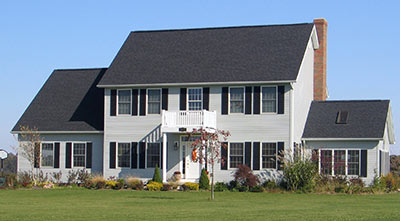 Manufacturers have created asphalt shingles that imitate the look of wood and slate.
Although these terms are used interchangeably, most roof shingles used today are technically known as asphalt fiberglass shingles. The fiberglass mat embedded in the shingle provides an extra measure of strength and tear resistance.
These shingles are the most popular type of roofing for sloped roofs because they're affordable, easy to install, durable, and available in a wide variety of colors. Premium grades of "laminated" asphalt fiberglass shingles are typically warrantied for 50 years.
---
Rubber roofing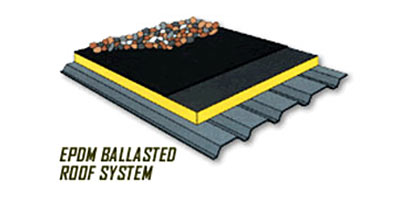 Rubber membrane roofs are often used to seal flat roofs over garages and porches. Credit: EPDM Roofing Association
Although rubber has been around for a long time, rubber roofing is fairly new. That's because it's taken a great deal of chemistry research to develop a thin rubber membrane with the durability and waterproof qualities required of a roofing material. Rubber roofing is sometimes referred to as EPDM roofing. EPDM is an abbreviation for ethylene propylene diene monomer, the highly engineered compound used to manufacture most types of rubber roofing. Rubber roofing is used primarily on flat or low-slop roofs.
---
Composite Roofing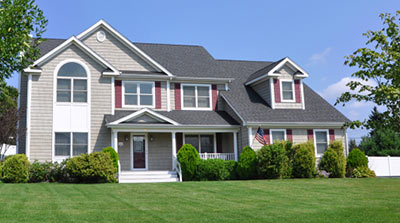 Composite shingles carry some of the industry's longest warranties.
The term "composite" can apply to several different types of roofing, since it simply implies that a number of different materials are used in the manufacturing process. Today one of the most common types of composite roofing is a simulated roofing slate that is made from resins and from rubber compounds extracted from reclaimed tires. This slate look-a-like offers excellent longevity and a lower installation price while providing the appearance of a traditional slate roof.
---
Choosing the right contractor is just as important as using quality materials
Premier Roofing & Siding Contractors is a full-service roofing contractor, specializing in everything from new roof installations, roof repairs and maintenance to total roof replacements. It doesn't matter what type of roofing system we are working with, we always ensure quality workmanship, excellent customer service and a long-lasting, durable roof over your head.
Our roofers work throughout the Southeastern Virginia & Northern North Carolina area, including Newport News, Virginia Beach, Chesapeake, Hampton, Norfolk, Suffolk, Williamsburg, Yorktown, Elizabeth City, Portsmouth and many parts of Virginia & North Carolina. Call us at 1-844-385-9334 today to schedule an appointment for a roofing estimate.