Testimonials
from customers I've helped!
"Their experience and professionalism are great assets to your company."

D J. of Carrollton, VA
Pamela Standish

from

Premier Roofing & Siding Contractors
Title:
President
Hometown:
Chesapeake, VA
Pam and her husband, Jeff, started Premier Roofing & Siding in 1989. Although starting out as part time work for Pam as they shared two young daughters at the time, Pam eventually made this her full time career. She continued to learn more about the home improvement contracting business both from her husband and on her own. Pam took the initiative to take some classes at TCC for accounting and filing. This same initiative is why Pam has successfully kept the business going strong after her husband's passing in July 2015.
With over 27 years of experience in the home improvement business now and with experience of being a co-owner of Premier Roofing & Siding from the beginning, Pam loves speaking with customers, stopping by job sites occasionally, handling accounts payable and receivable and taking on the additional responsibilities of President.
In her spare time, Pam spends time with her two daughters and her two granddaughters. They spend time at the lake continuing their special bond and having a great time boating. Since her and her husband were so involved in helping high school students earn scholarships to play and gain higher education in college, she makes it a point to catch some of these girls playing a high school or college softball game when she can.
"I love working with folks that are longtime family friends and great caring employees. Making sure Promises Made... Promises Kept is something all our employees are striving for is rewarding as a business owner. We have thousands and thousands of customers in the Hampton Roads area and I am grateful for such great customers and am so glad to see that we are able to help families with their exterior home improvements." -Pam Standish
Videos from projects I was involved with: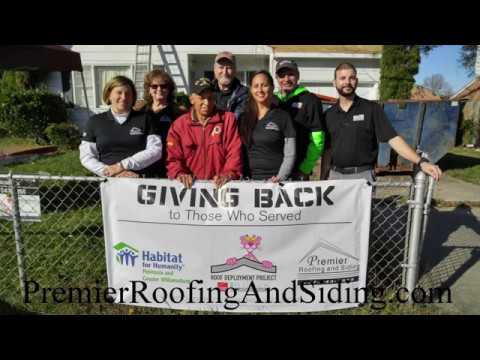 Premier Roofing & Siding Habitat for...
Premier Roofing & Siding Contractors installs a brand new high performance roofing system for this...
Watch Video
Related Videos
Before and after photos from jobs I've worked on:
Before

After

Customer originally called for a quote to replace the shingles on their home with an algae resistant shingle. Our crew removed existing roof down to the decking and reshingled the roof with an Owens Corning TruDefinition Duration Algae Resistant Shingle in the color of Desert Tan. The lighter roofing shingle color brightened up the curb appeal on this particular house with the brick walls.